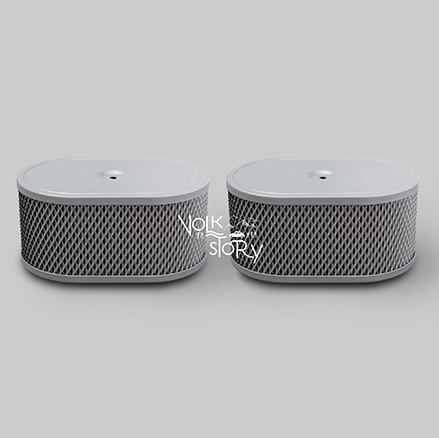 FLAT 4 MESH AIR CLEANER KIT WITH ELEMENT FOR IDF CARBURATOR
฿ 0.00
Mesh type VINTAGE original air cleaner that revolves around high performance engines
such as PORSCHE of '60 ~ '70' s, the mesh cover of the diamond pattern and silver paint
of matte,the atmosphere which is incomprehensible VINTAGE HIGH PERFORMANCE
is brewed out It is.
This time, IDF carburetor series of φ40 ~ 48 which is especially popular among dual
carburetors,high mounting rate,
This time, especially popular among dual carburetor, the IDF carburetor series of
φ40 ~ 48 with high mounting rate upgraded to a mesh style similar to GERMAN made
KNECHT companyair cleaner which was used for PORSCHE 356 S-90, SC, CARRERA
It is possible KIT.
Removing the conventional air cleaner, attaching the base plate of KIT, simply attaching
mesh cover,top cover to the newly attached special element, you can get nostalgic looks.
Of course, the traditional paper type air element (CA - 026A) can also be used as a
replacement, so it is possible to sendsemipermanently clean air into the carburetor by
the double structure of element and mesh.
However, the stay welded to the bottom is H / D type strong against warping and bending,
it is possible to tighten the top securely and horizontally.
In addition, the air cleaner top base faithfully reproduces the original made by KNECHT,
adds the FLAT 4 logo to KNECHT in addition to the diamond logo, and furthermore
the letters are written in German / English. Tightening also uses the same method as
KNECHTmade by a special washer and bolt, not a butterfly screw, it is an item of our
company that sticksto details.
For :
Beetle
ฺBus
Karmann Ghia
Porsche 356
www.volkstory.com
Line : @volkstorybkk
https://line.me/R/ti/p/%40volkstorybkk
Email : volkstorybkk@gmail.com